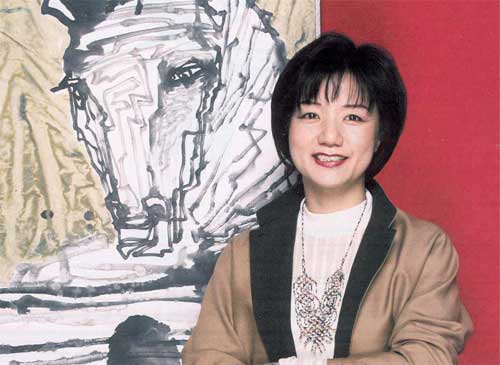 画家简介
艺术家,曾就职于丹哈格独立工作室,首尔工作室,美国佛蒙特州工作室。有关艺术作品的文章在韩国、美国、德国等地被印刷多达400多次。
现任职位:Samsim艺术董事长
教育经历:
1982年首尔国立大学 获艺术学硕士
1980年美术学院绘画系 获学士学位
画展:
曾在首尔、大田、韩国浦项、纽约、美国佛蒙特、柏林、克雷费尔德、德国福希海姆和西班牙马德里等地共成功举办34次个人画展
巴黎、东京和首尔成功举办约15次画展,获得较高的荣誉
曾经在首尔、日本、中国、台湾、法国、德国、俄罗斯等地成功举办联合展。

艺术博览会
巴塞罗那艺术博览会
欧洲日内瓦艺术联合展
苏黎世国际艺术联合展
因斯布鲁克艺术联合展
卡内基音乐厅国际艺术博览会
美国艺术博览会
加拿大蒙特利尔艺术博览会
波多黎各艺术联合展
阿尔托艺术博览会
作品收藏
韩国当代艺术博物馆收藏
韩国Kyunggido博物馆
Sookeun 博物馆
美国乔治梅森大学收藏
美国纽约的韩国文化中心收藏
瑞士的韩国大使馆收藏
瑞士国际美术有限公司收藏
Minjoo Lee(이민주, 李珉柱)
Introduction:
Artists:had worked in Stand studio-Den Haag、Changdong studio-Seoul, Korea studio-Vermont,USA
The articles about her art works were published more than 400times in Korea, USA, Germany, Switzerland
President of Samsim Art
EDUCATION
1982 M.F.A. Graduate school, Seoul National Univ.
1980 B.F.A. The department of painting, College of fine art
EXHIBITIONS
Minjoo Lee had solo exhibitions 34times in Seoul, Daejeon, Pohang(Korea),NewYork, Vermont(USA), Berlin and so on.
has awarded in Paris, Vermont, Tokyo and Seoul about 15times.
participated in more than 400group exhibitions in korea,Japan,China,Taiwan,France,Spain,Germany and so on.
INTERNATIONAL Art Fairs
Barcelona Art Expo,
Europ'Art Geneva, International Art Zurich(Switzerland)
Innsbruck Art Fair(Austria)
International Art Expo at Carnegie hall, New York Art Expo(USA)
Montreal Art Expo(Canada)
Puertorico Art& wine FairPpuertorico)
Public Collections
National museum of contemporary art(Korea),
Kyunggido Museum(Korea)
Park, Sookeun museum/Seoul art Center/Korea national theater
George Mason University(USA)/Korean cultural center in New York(USA)
Korean Embassy in Geneva(Switzerland)/BB International fine Arts GMBH(Switzerland) and etc.
20th Vice chairperson of Korea fine arts Association(Korean National committee of IAA)